For once the gliding weather today was on the better side of marginal; the sky was blue with a few cu's popping, but also breaking up rather quickly. The wind on the ground was a 10-20kph south-westerly.

My first flight was a backseat launch in the Twin and during the winch launch we flew through some nice lift. After release I did a U-turn and managed to find some broken lift. The wind 600ft up was blowing a good 20 to 30 kph and with the weak broken lift the drift along the ground was quite bad. After about 20 minutes of hard work I lost the battle and headed in to land.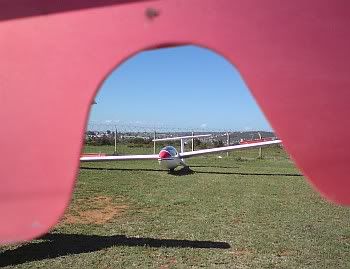 About two hours later, and once the weather looked like it had improved somewhat, I took the 20 up for a flight. By then the lift was good, but very broken with bad turbulence. So bad that I didn't thermal at less than 100kph and once a gust was so strong that the 20 almost dropped a wing, and I got a bit of a fright. I managed to stay aloft for 45 minutes before I needed to come land as I had lost my lift. It was also after about 30 minutes of hard work in the sky that I released that I was very flying un-fit. This was probably my longest thermal flight in 5 months and I actually got tired (mentally) very quickly. I found myself flying in circles without really concentrating.

Anyway, at least I got in some good practice and came it for an absolute beaut of a landing.